Olio – The Best Food Sharing App (And So Much More), You Should Be Using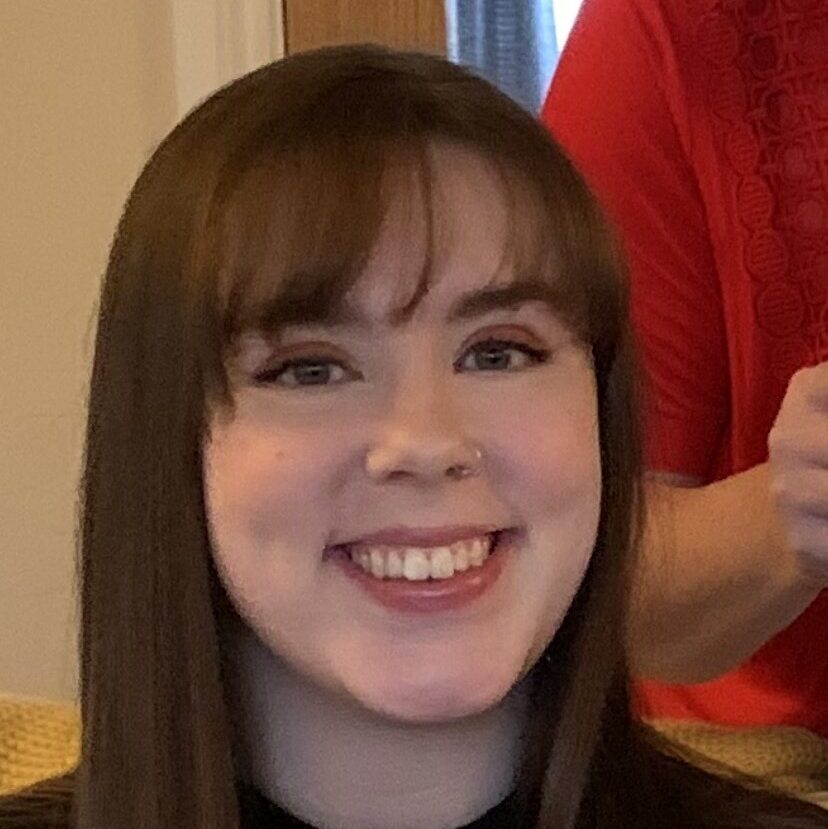 Written by Niamh
What is Olio? If you haven't heard of it before, or maybe you thought it was 'just' a food-sharing app, you're in for a treat!
It's that time of the week again - you've gone a little off track with your meal plan, didn't use all the groceries you bought, and now you're forced to throw them away before they go bad.
We've all been there, but there's no need for your food to go to waste anymore - that's where Olio comes in!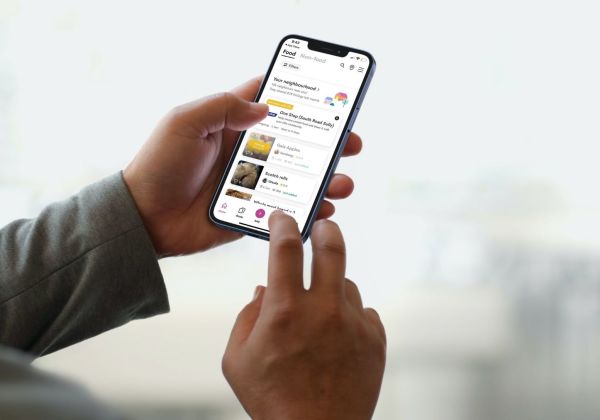 An app aimed at borrowing, sharing and selling the things you don't need. One of the main differences between Olio and other second-hand marketplaces is the ability to give away food.
As long as it's before its sell-by date, any food you might have sitting in your kitchen that you don't want can be given away to somebody in the community who needs it.
With over 6 million users in 62 countries, there's bound to be a group of users in your local area that you can connect with.
This blog will explain everything you need to know about Olio and its benefits for the planet and your pantry - by the end; you'll have no reason not to download it!
Food Waste - What's the Big Deal?
Whilst food waste may not seem like the main problem facing the climate crisis right now, it has a much larger impact than you'd think - it takes a land mass larger than that of China to grow the food that is eventually wasted.
It accounts for 25% of freshwater consumption globally.
Dire environmental consequences aren't the only reason we should be trying to waste less - if given to others, a mere ¼ of the food we throw away could feed the Earth's starving or malnourished population.
When the average UK family throws away 22% of their weekly shop, it's clear that something should be done to tackle the global food waste problem.
This is where Olio can help - keep reading to find out how to use it, what to sell and which useful features the app contains!
Olio 101 - Everything You Need to Know
First, knowing how to use the app's main feature - selling and requesting listings in your local area is useful.
To list something on Olio, tap the 'Add' button in the bottom toolbar to get started.
You can then choose between a variety of categories for your listing, which are as follows:
Free - This is used if you're looking to give away any food or non-food item free of charge. 
Sell - If you're planning to charge a fee for your item, it will go in the sell category instead - this ONLY applies to non-food items.
Borrow  - Want to help lend a hand in your community? If you're willing to lend a neighbour something they might need or you're after something yourself, advertise this in the borrow category.
Wanted - If there's something specific you're hoping someone can give you, advertise this in the 'wanted' category.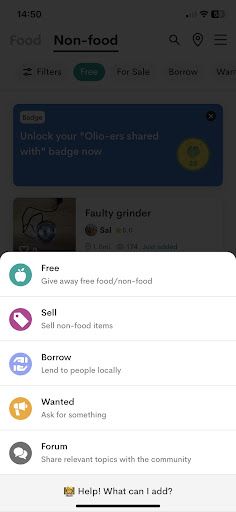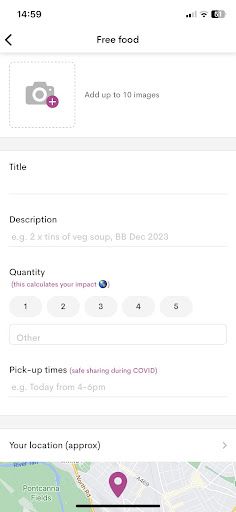 From here, it's easy to customise your listing to add as much information as possible - you're able to easily add images, a description, ideal pickup times and the listing length.
Then, it's as simple as waiting for a user to respond and pick up your item!
Don't panic about your item going unwanted - over 50% of Olio listings are requested within 60 minutes of uploading, and over 80% within 24 hours.
The odds are on your side!
If you're looking for an item, food and non-food listings are easy to find and navigate on the app.
This can include food from leading supermarkets such as Tesco, who's partnered with the app - you will often find fresh food available from them, which is slightly past its best-before date.
You can sort items by distance or how new they are through filters at the top of the page, ensuring that whatever you need to pick up meets your needs and requirements.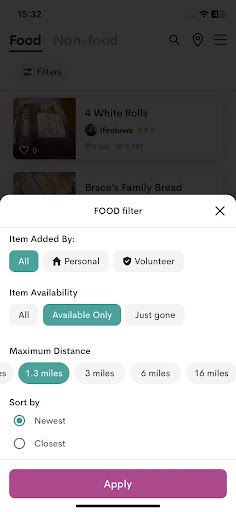 Goals on Olio
Another helpful feature of the app is the goals tab, which is great if you're looking for small ways to live a more sustainable lifestyle.
This gives you the option to swipe through various tasks and choose some to commit to, from recycling your old phone to making your own oat milk.
Completing these gives you in-app rewards, providing an incentive for users to live a more sustainable lifestyle step by step.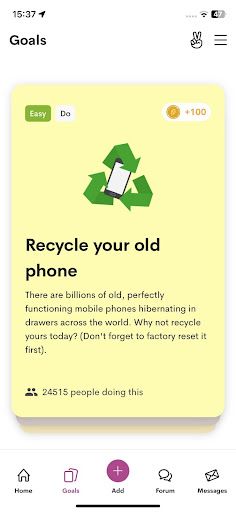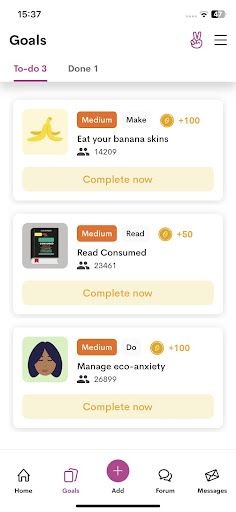 The Olio Forum
Finally, the in-app forum provides a complete guide to using Olio, making sustainable choices, and even cooking delicious recipes with food waste!
Users can contribute to this forum in multiple categories, from tips and tricks about zero-waste living to questions about the functionality of the app.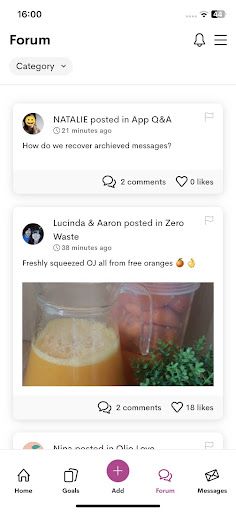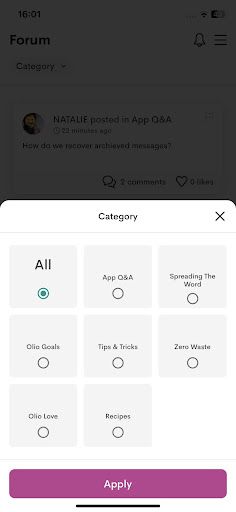 Making a Listing - What Can I Sell on Olio?
Whilst almost anything can be given away on Olio, certain guidelines need to be followed for each category:
What you CAN list on Olio:
Free food and drink (including alcohol!)
Items that you're looking to get rid of - includes kitchen knives, used cosmetics, pet food and tobacco.
What you can give away for free, but not sell:
Homemade products.
Alcohol.
Food and drink.
Plants.
Pet food.
Tobacco.
Items labelled 'not for resale'.
What you CANNOT list on Olio:
Medicines. 
Stolen items.
Anything requiring postage.
Food past its 'use-by' date - whilst after a best-before date is fine, giving away anything past its use-by date is illegal.
Prescription glasses and contact lenses.
Services.
Money.
Fake and counterfeit goods.
Recalled products.
Coupons, vouchers and discount codes.
Tickets and experiences.
Illegal drugs.
Weapons and controlled items (including knives and fireworks).
Digital content.
Subscriptions.
Healthcare items.
Homemade cosmetics.
Homemade detergents or chemicals.
Animals, pets or animal parts.
Violent, graphic or sexually explicit content.
Banned literature or artefacts.
Creating a Listing on Olio- Top Tips
Categorise your items appropriately - don't bundle lots of unrelated items into the same listing, as this makes it less likely that someone will respond. Instead, create multiple listings to make it easier for other users to tell what you're giving away.
Include information about quantity, best-before date and quality in the description of the listing.
Try and be as flexible as possible with your pick-up times - that being said, make sure this doesn't go past the use-by date!
Consider adding a delay to your listing - this gives new users the opportunity to see your listing first, giving them a headstart when using the app for the first time!
Now that you know how Olio works and the cause it's helping, what are you waiting for? Download the app from the Apple or Google Play store, completely free of charge.
Want to learn more about second hand living? Here are some other alternatives to buying new.
Used and Loved is a website that searches most of the second hand sites at once, saving you hours of trawling and saving you money by giving you all the options! Have a browse through our suggestions here.