How to style apple shaped body types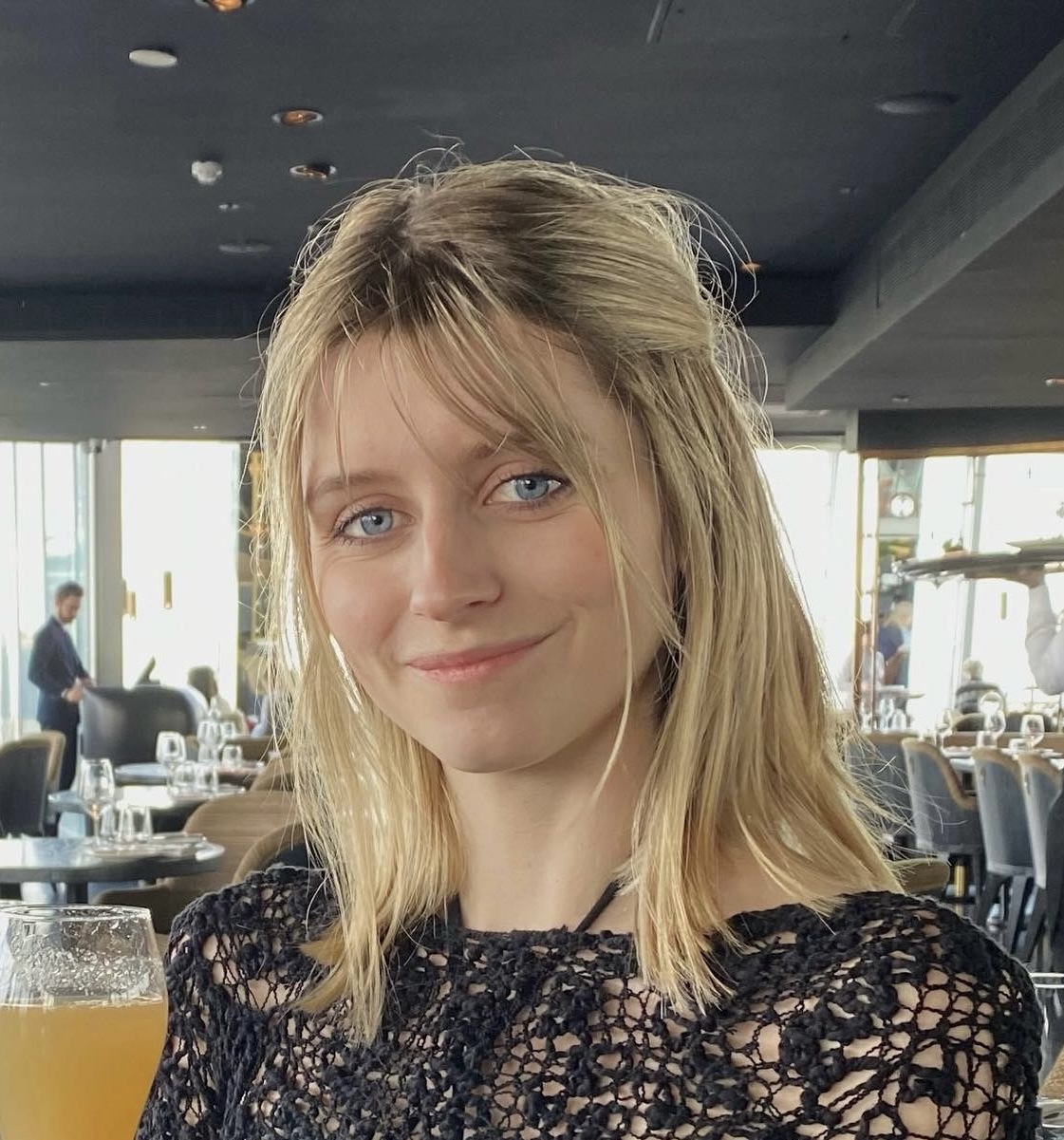 Written by Evie
If you want to learn more about proportions and silhouettes that can be created through clothing for apple shaped body types, this blog is for you.
The proportions relating to an apple body shape are where a person's waist is slightly larger or the same size as their hips and shoulders. 
You can play around with different silhouettes in your clothes when getting dressed. Some people feel more comfortable emphasising different parts of their body.  
Some people create outfits which aim to create 'balance' in their outfits. This is where someone creates equal interest on their outfits' top and bottom half.
Other people like to enhance their body types and wear clothes which emphasise the shape that their body already has.
Neither one of these is better than the other. It's all down to personal preference.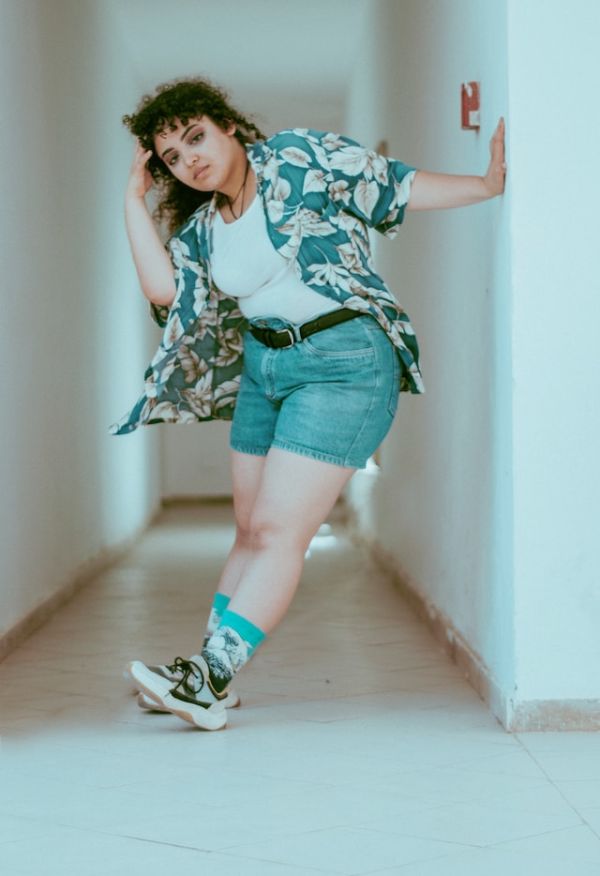 There is nothing 'wrong' with your body that you need to feel the need to balance, hide or change.
This blog only offers some foundational understanding of silhouettes that can be created by clothing. 
We have compiled a list of celebrities with bodies whose proportions may resemble the 'apple' label. Check out how silhouettes in clothing are explored by different 'apple' shaped women and take inspiration from their style.
Balance for apple shaped body types
To create balance in your clothing, experiment with the cut of trousers and skirts if you are an apple body type. Embrace flares and wide-leg cuts for a clean and modern aesthetic.
Pair these with V-neck tops, or necklines that scoop downwards towards and show off your cleavage (if you feel comfortable doing that) and a statement pendant necklace (these are super easy to find second hand).
Enhance for apple shaped body types
If you want to enhance your body, don't be afraid to experiment with the rise and fit of your trousers, and the cut of tops.
Try mid and low-rise trousers, and sit belts low on your waist.
Wear corset tops like or embrace the slouchy look with off-the-shoulder knitwear.
Drew Barrymore: apple body shape styling
Apple body shape styling: balance
Drew Barrymore creates balance in her outfit by choosing items with a lot of visual interest on the top and bottom half.
A top does this with a necktie which draws the eye upwards.
Paired with a pair of trousers which are high rise, and sinched at a belt.
With a pair of flared, wide-leg trousers, Drew creates a comfortable and flared silhouette with visual interest on the top and bottom of the outfit.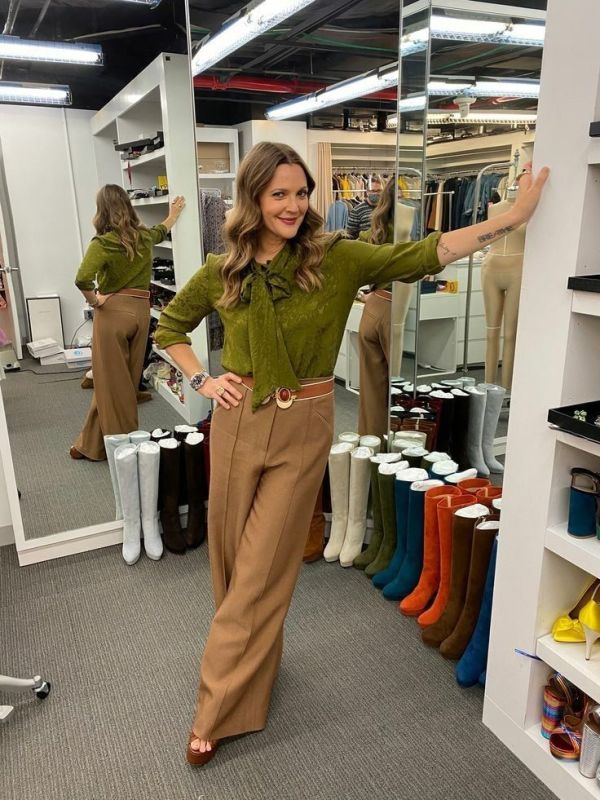 Apple body shape styling: enhance
Drew wears white trousers with a black statement belt in this outfit, drawing the eye to her waist.
Paired with a cropped suit jacket with a collar, Drew enhanced her natural body shape.
To dress similarly to Drew, experiment with statement belts.
These can be chunky or thin, paired with jeans or layered over bodycon dresses and skirts.
Lizzo: apple body shape styling
Apple body shape styling: balance
Lizzo creates a gorgeous balanced silhouette in this three-piece gingham number.
Combining an A-line skirt that hugs the smallest part of Lizzo's waist before curving out creates an hourglass shape on her body.
Paired with a matching jacket which draws the eye upwards, Lizzo turns a beautiful, proportioned silhouette.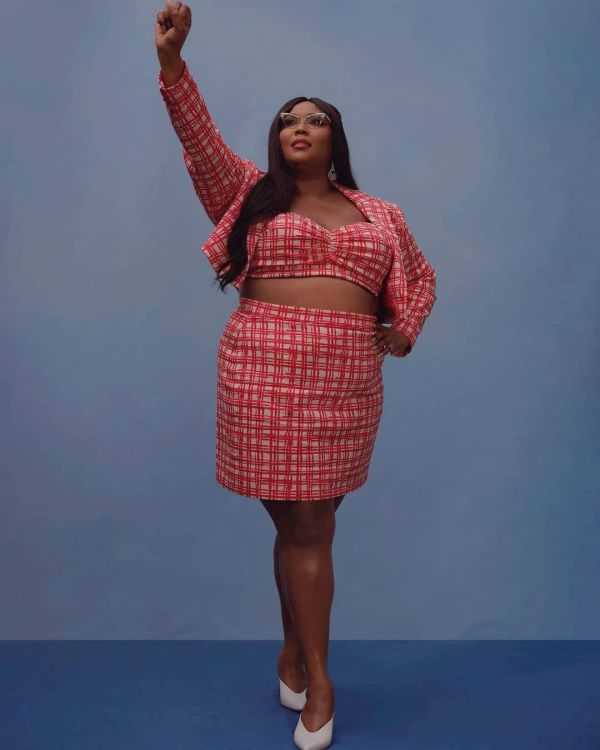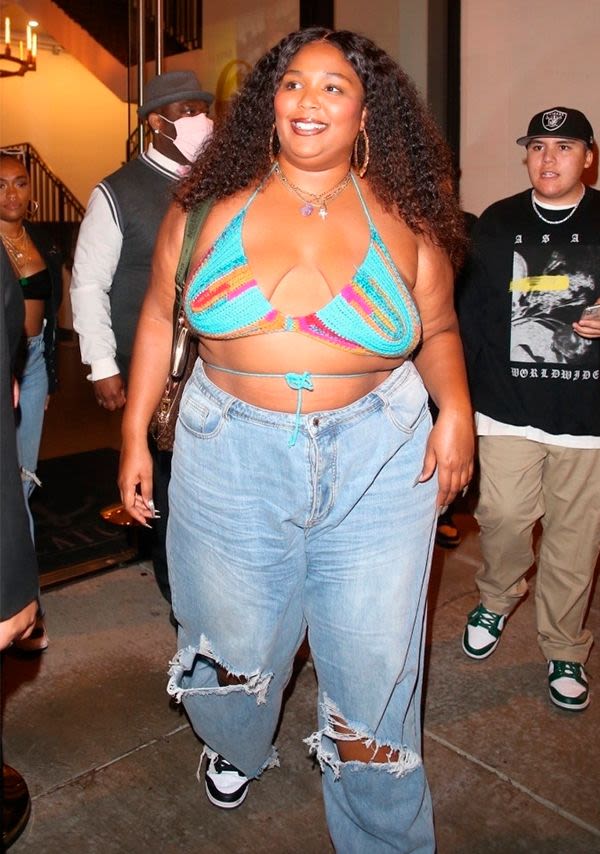 Apple body shape styling: enhance
Lizzo enhances her figure and shows off her natural body by wearing casual blue jeans and a crochet bralette.
The bright colours of the top draw the eye to Lizzo's chest and upper body.
This enhances her natural shape; paired with hoop earrings, she looks terrific.
Queen Latifa: apple body shape styling
Apple body shape styling: balance
Queen Latifa uses clothes to create proportions here through the use of monochrome outfits and cut-out details.
The shoulder detail draws the eye up and out, and the wide-leg trousers balance the outfit out on the bottom half.
By tucking the top into the matching trousers, Queen Latifa draws the eye towards her waistline to create a balanced silhouette.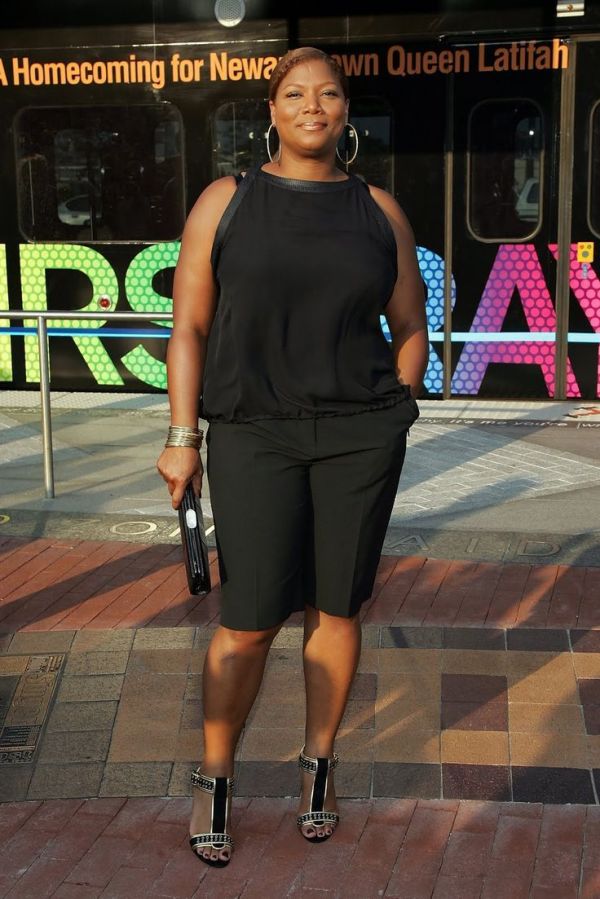 Apple body shape styling: enhance
Just because some blogs say that apple-shaped bodies should focus on long details to elongate the body, Queen Latifa proves that you can explore different items of clothing.
Here, she pairs a pair of knee-length shorts with a flowing halter-neck top which emphasises her natural silhouette.
The shorts hit at the knee, but she still looks fantastic with her outfit paired with some wide silver hoops with matching bangles.
Now you have seen how some different women explore their silhouettes, feel free to experiment on your own! 
Remember to be confident and that fashion is meant to be fun. 
Read more blogs to find out more about your body shape, your personal style, and an ultimate guide on how to buy vintage fashion.